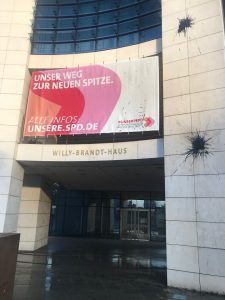 Berlin, 25 october 2019
We're angry! Angry at the all-too-familiar silence of the so-called representatives of Germany towards a situation that has serious consequences! It took a whole eleven days until the Turkish invasion was named by the spokesperson of the Federal Government as an attack contrary to international law – nothing less than an empty phrase!

For decades, Turkey has tried to oppress, silence and eliminate the Kurdish population. Since the latest massive attacks, which reached Kurdistan on 09.10.2019, everybody should have understood, which perfidious interests Turkey pursues.

It's not surprising that parties in Germany just watch. After days of cruel murder, the SPD (Social Democratic Party) has come to the conclusion that it should strive for a "stop" of arms exports to Turkey. But this advance also turns out to be a mockery, because the already approved exports will continue to be delivered, as well as the weapons, which cannot be used in the "conflict in Northern Syria". The statistics show the true interests of the SPD-led government: one third of all arms deliveries from Germany went to Turkey in 2018 (alongside such states as the United Arab Emirates and Egypt as part of the war alliance in Yemen). And this year, too, the arms industry is booming, because in the first half of 2019, more arms exports were approved to NATO partners than in the whole of 2018. Worse still: the actual deliveries of military equipment to Turkey in 2019 reached their highest level since 2015. In addition, Turkish special forces are being trained at the "Special Operations Training Centre" in Pfullendorf (Baden-Württemberg) by female German soldiers who are now fighting in Syria (Militarization Information Centre). Despite the strong fascist orientation of this policy, the Despot Erdogan was received with military honours by the SPD Foreign Minister Frank-Walter Steinmeier in 2018.

Ruthless, economic-political interests and the submissiveness towards Turkey, which results from the so-called refugee agreement, are mainly supported by German (SPD) parliamentarians. This behavior is a betrayal of the people who have given their lives for a better society, a better life in equality and self-determination. People who for years faced the worst enemy, the Islamic State, and were confronted with the atrocities of this fascist organization.

There has never been a hope of state solidarity, away from economic self-interest and a right-wing ideology that is entering the military, state security and political parties. And yet this misanthropy, the ignorance regarding one of the most progressive social projects in the world and the cowering of right-wing agitators cannot remain uncommented on! This is only the beginning!

On October 24th, the SPD Federal Party Headquarters was attacked with paint bottles and stones.

All connections worldwide are called upon to take part in the campaign #Fight4Rojava. Make the enemies of freedom in your countries aware of the responsibility they bear.

No compromises!
No demands!

Down with state, capital and fascism.
Source: Indymedia (Tor), translation anarchistsworldwide.noblogs.org

Video: