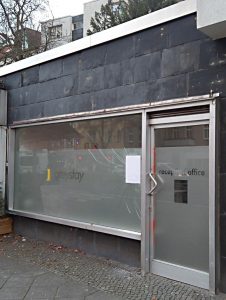 Berlin, 28th january 2020
Last night we beautified the reception of GreyStay in Albrechtsraße 34 (Steglitz) from the inside with extinguishing powder and outside with paint. The managing director of Greystay is Ferdinand Wrobel, lawyer of the Padovicz group. He represents the PG in the eviction process against Liebig34 on 30th January in the high-security hall in the Criminal Court Tiergarten.

With his mandate, Wrobel plays a key role in the patriarchal displacement of Berlin's only anarcha-queer-feminist house project.

An attack on our comrades in the Liebig34 is an attack on all of us. That's why we decided to fight back.

The Greystay office in a Padovicz house are a good target. Here, Wrobel rents out living space in a legal grey area as furnished apartments to tourists and thus contributes in addition to the displacement. The office serves as reception for the "hotel".

Wrobel has also lead several eviction proceedings against tenants of the Padovicz Group in the past. In all cases, the eviction had the aim to increase the rents afterwards.

As long as he is ready to do the dirty work for the Padovicz UG we meet him with open hostility. Anyone speculating on housing is a legitimate target for attack.

The fight against displacement and for a city from below intensifies. But every eviction comes at a price, especially when it comes to one of the few queer-feminist spaces.

Let's tear down their patriarchy with glittering cobblestones!
Source: Indymedia (Tor)