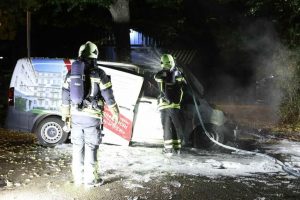 Leipzig, July 16, 2020
The last few weeks have been marked by repression nationwide, whether searches in Leipzig, Frankfurt, Bremen or in the R94 (or partial evacuation of the front building). To make it clear that we think these events suck, we torched a CG Group van in Leipzig during the night of July 15-16.

Although the CG group was not involved in the repression measures itself, it was an actor of massive displacement both in Leipzig and in the northern district of Friedrichshain. The actions of the state must not remain unanswered!

We also want to give you a foretaste of the reactions to the eviction of Liebig 34. If you take the houses from us – let's flatten the city; also in Leipzig!

Fire for this state and dirty displacers like CG! Don't feel safe anywhere!
May this world go up in flames and make room for many new ones!

Even after one year; freedom, love and strength for the Park Bench 3!

Solidarity with the threatened projects and those affected by raids!
Source: Indymedia (Tor), translated by anarchistsworldwide.noblogs.org