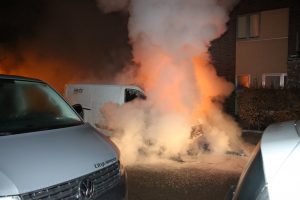 Berlin, April 18, 2021
Last week the constitutional court overturned the rent cap. For many Berliners, the rent cap determines whether or not they are able to afford an apartment in their hometown or their home of choice. The judgment makes this not only impossible but also means large repayments to the landlords. Such a mess must not remain unanswered. That's why we set fire to a Hertz van on the street Zur Börse. Hertz equips the Greek cops, so they can be the target of this tenant reaction.

Furthermore, this shitty curfew is also unacceptable. We won't let ourselves be locked up for months! Should the nationwide curfew come from 9 p.m. you should think twice about leaving your company vehicles parked around in our neighborhoods. We have enough of this shit and will try not to let you rest.

We join the call from Leipzig last winter!
Uprising instead of curfew!
Fire instead of constitutions!
Source: Kontrapolis.info