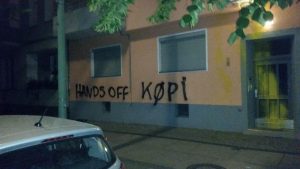 Berlin, Juni 5, 2021
In the night from 04.06. to 05.06. we visited the owner of Köpi and Köpi Wagenplatz and left an unmistakable message with paint and fire extinguisher on the facade of his apartment in Karlsruher Straße 2a, 10711 Berlin. This Saturday (05.06.) a rally for Köpiplatz is to take place in front of his house. We have marked the house wall so that all participants can immediately recognize the place of his residence.

Köpiplatz, like many other projects in this city, is acutely threatened and is shortly before the court date about the eviction. Nehls, you disgusting speculator fucker, that was just a warning: Hands off Köpi!

Köpi remains risk capital!
Solidarity with Potse, R94, Köpi and all other threatened projects!
Source: kontrapolis (Tor)