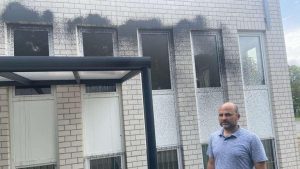 Kassel, 19 may 2022
In the night of May 18-19, we attacked the business and office premises of the Turkish-Islamic Cultural Association of Europe (Avrupa Türk-Islam Birligi, ATIB) in Kassel with stones and paint.

The ATIB association "Türkisches Kulturzentrum Kassel e. V." is located at Franzgraben 58. ATIB is a split-off of the ADÜTDF (Almanya Demokratik Ülkücü Türk Dernekleri Federasyonu) and is one of the umbrella organizations of the associations and organizations of the fascist "Grey Wolves". As a result of the split, ATIB mainly concentrates on supposedly non-political activities, for example in rather inconspicuous associations for sports, culture or tea rooms. However, neither ATIB founder Musa Serdar Celebi nor the association itself has broken with the racist, nationalist and Islamist agenda.

We targeted ATIB's spaces because they act as an extension of Turkish fascism in Europe. While left-wing oppositionists have been persecuted, arrested, tortured and murdered in Turkey for years, associations like ATIB have been agitating for the idea of a purely "Turkish" nation-state that knows no other identities. Kurds, Armenians and Alevis cannot exist in it.

Already in 2018, there was an attack in Kassel on an ATIB meeting place in Schillerstraße, at that time as a reaction to the war of aggression of the Turkish army and its jihadist murder gangs on the Kurdish canton of Afrin, which was against international law.

While the war in Ukraine currently dominates the headlines, the Turkish state has been intensifying its attacks on the Kurdish freedom movement for weeks, both in Turkey and in Syria and Iraq.

Turkey's ruling AKP under Erdogan and its allies, the Forces of Reaction, are fighting not only the revolutionary Turkish left, but all left-wing opposition. Just recently, activists were sentenced to life imprisonment in some cases for their participation in the Gezi Park protests. Turkish prisons are full of trade unionists, activists and functionaries of the HDP, revolutionaries.

With our action we send a small solidary and angry greeting to all who resist against the Turkish state, its army and their jihadist gangs in all parts of Kurdistan. Do not give up!
Source: Indymedia (Tor)