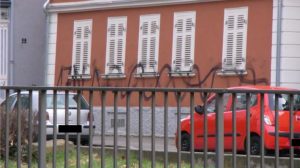 Tübingen, 8th of march 2021
In the night of the 8th of march we have embellished the facade of the Christian-Democratic-Union (CDU) office with black colour.

The CDU ist the political ally of the greek party Nea Dimokratia (ND). ND is recently in the process of turning the greek state into a totalitarian regime.
One of the many examples is the treatment of the political prisoner Dimitris Koufontinas. He is in a hunger strike since the 8th of January and had to be resucitated once already. In the case of Koufontinas the state isn't even willing to follow its own laws which are by themselves already very harsh. Koufontinas does not ask for more than beeing treated according to the laws. ND isn't even willing to grant him this request. More under: https://crimethinc.com/2021/02/25/greece-the-ghost-of-junta-past-returns-the-hunger-strike-of-dimitris-koufontinas

The inhumane treatment of Koufontinas sparks anger and hatred towards the state and the authorities and so demonstrations and riots have become ubiquitous in greece. It is not just about Koufontinas but a general discontent with a corrupt an authoritarian regime.
But ND can not even accept the protests. Merely carrying a banner in public is prevented whenever possible. Of course with the help of excessive violence from the police. Even journalists are not safe from the police and are attacked on a regular basis. The right to demonstration is de facto abrogated.

Again this is just one of many examples for the inhumane and brutal acts of ND.

The CDU as a political ally of ND is also to blame for these failures. Also the CDU by themselves are responsible for their fair share of human suffering. For example through deportations and their general attitude towards immigrants.

Even if we are not 100% behind Koufontinas' and his group's (17. November) deeds and methods we are solidaric with him, as he neither betrayed his comrades nor his believes. Not even the prison could break him. His fight and his hunger strike ist not just for him but for all the people that are mistreated by ND and all the other governments.
The mighty say that we are dangerous, that we are terrorists even but this is just a scheme to distract from the real dangers. Capitalism, nationalism and patriarchy. The enemies of the people are not the ones who attack the unjust system, but those who reinforce said injustice.
Solidarity with Koufontinas and all insurgents in the world. Until we are all free.
Source: Barrikade.info