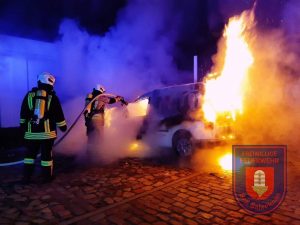 Schönebeck, November 4, 2020
Dear Three from the Park Bench,

We send you solidarity greetings to the courtroom and behind the prison walls with an action against the former fire expert in the Parkbank trial, Sebastian "Poor Germany" Herrgesell. We set fire to his company car last night in Schönebeck on the Elbe.

There are several reasons why we chose Herrgesell's company as the target: he himself was appointed as an expert witness in the Parkbank trial, but was not heard as a witness after his anti-human views were made public by the defense. He and the employees of his company are closely connected to the cops. He was apparently also appointed because it was to be expected that he would nod to their theories with his "expert opinion" (more at parkbanksolidarity.blackblogs.org).

Dear three from the park bench, after a month-long trial you are to be sentenced today. We want to tell you that your non-cooperation and silence towards the repressive authorities means a lot to us. It has given us strength again and again in the long time since your arrest in July 2019. It is also clear for us: neither guilty nor innocent!

And in case the repression does not end after a verdict against you, we assure you that we also have a long breath. Our solidarity is assured.

Until all are free!

P.S. Against the state and its justice, Against Germany and its fans!
Source: Indymedia (Tor)