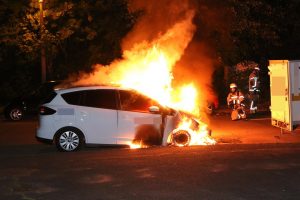 Berlin, 16th july 2018
Last night a car belonging to the company Dräger was torched on Hänsel street in Baumschulenweg. Among other things, this corporation that is listed on the stock exchange manufactures gas masks for police and military use.

In 2010, Dräger locations in Berlin and Cologne were attacked with paint:

«We hit Dräger because it is one of the biggest supporters of the international torture and murder scene, and in addition to sponsoring the police congrees, Dräger is also a leading international security and medical technology company».

From the Dräger annual report:

«Demand for our products increased in 2017, especially in Poland, Great Britain, Austria and Germany, as well as in Romania, Russia and Turkey…The increased demand for security products in particular contributed to the positive development of an increase in orders for medical technology too».

Freedom For All G20 Prisoners!
Source: Indymedia (Tor), translation mpalothia.net